(From International Christian Embassy Jerusalem)
Ten minutes of heartfelt, fervent prayer from every believer who cares about Israel would bless the Father's heart and uphold His Word for the Land.
Things are heating up in the Holy Land and the violence will only get worse according to the Bible...
Police search for gunman who shot several people in central Tel Aviv, January 1, 2016.
"In S.D. Gordon's book, Quiet Talks on Prayer, he considered the earth to be the battlefield in prayer, and prayer as a "war measure"
....something that will not come as much of a surprise for most of you who are reading this.
He defined it this way: Prayer is man giving God a footing on the contested territory of this earth. The man in full touch of purpose with God praying, insistently praying -
THAT man
is God's footing on the enemy's soil.
The man wholly given over to God gives Him a new headquarters on the battlefield from which to work out.
And the Holy Spirit within that man, on the new spot, will insist on the enemy's retreat in Jesus the victor's name.
For those of us who are standing in the gap for Israel, the words "contested territory " are especially meaningful, and the
spiritual battle
is particularly
ferocious
. We sometimes feel dismayed - as during these past few days - as we see parts of Israel's heritage being surrendered once again to the hands of those who hate her and want to see her expunged from the face of the earth.
But we are always encouraged and consoled to know that God has a plan and an
everlasting covenant
that He will never abandon. We will ultimately see the perfect fulfillment of that plan.
There can be no peace for Israel until Messiah returns, and Israel must pass under God's rod of chastisement until she repents.
There are four purposes for intercessory prayer:
To give birth to the purposes of God
To undergird God's work and workers with prayer
To make tremendous power available to the hosts of heaven who battle the wicked spirits in heavenly places.
There is no more effective way to release the power of God into a situation than to proclaim the Scriptures with faith and boldness.
Except for one or two nations, the world is determined to force Israel to give up Judea, Samaria And Jerusalem. Proclaim the Word of God over them:
"
Arise, O Lord Do not let man prevail; Let the nations be judged in Your sight. Put them in fear, O Lord, That the nations may know themselves to be but men." Ps 9:19,20 NKJV
"The Lord brings the counsel of the nations to nothing; He makes the plans of the peoples of no effect. The counsel of the Lord stands forever, The plans of His heart to all generations. Blessed is the nation whose God is the Lord, The people He has chosen as His own inheritance." Ps 33:10-12 NKJV
Pray against those within Israel and without who plan evil against her.
"Woe to you who lie awake at night plotting wickedness; you rise at dawn to carry out your schemes..." Micah 2:1
"Let my adversaries be clothed with shame; and let them cover themselves with their own confusion..." Ps 109.29
"Destroy their plans, O Lord, confuse their tongues.." Ps 55:9
"Thus says the Lord, Who gives the sun for light by day, and the fixed order of the moon and the stars for light by night...if this fixed order departs from before Me...then the offspring of Israel shall cease from being a nation before me forever". Jeremiah 31:35,36
Pray for the Prime Minister, for discernment, strength and courage to obey God.
"Let Your hand be upon the man of your right hand, Upon the son of man whom You made strong for yourself." Ps 80:17
And pray that Jerusalem will remain the undivided capitol of Israel.
"The Lord of hosts will protect Jerusalem; He will protect and deliver it, He will spare and rescue it." Isaiah 31:5
You may want to read this ...
(From a ICEJ prayer letter)
"In his book, THE HOUSE OF THE LORD, Francis Frangipani speaks about 'birthing prayer' - prayer and intercession which brings forth dimensions in and through His ministers that are not possible by any other means.
Examples are shared about what can transpire in a church or city or nation when intercessors remain in the gap with the gift of "spiritual responsibility" for that which God has placed on their "prayer shoulders". It might be well to keep these thoughts in mind as we patiently bear before the Lord the many situations here in Israel that seem unchanged from month to month.
At times it seems unbearable to wait these long, seemingly endless "nine spiritual months" until the purposes of God are birthed; one becomes weary with the waiting - especially when it is difficult to understand just what exactly is going on! But God has His appointed times! Even as He once said to Abraham, "Is anything too hard for the Lord? At the appointed time I will return unto thee..." Genesis 18:14
A word on Israel and the nations
God said in Genesis 12:3, "I will bless those that bless thee and curse those that curse thee".
Those who have cursed God's people have paid dearly over the centuries. England backed off from the Balfour Declaration, took the Arab side consistently, and lost her Empire - Rabin disobeyed God - he's dead - Peres continued in his path - he is dead politically - and so it goes. God isn't going to put up with this - even MANY "Christian" churches, and some of the biggest and best Bible colleges have taken up Replacement Theology and are becoming decidedly anti-Semitic. To whom much is given, much is required.
The Bible clearly states that the nations will be judged according to their position on Israel (Joel 3). The Bible also makes it evident that there is a cause and effect principle in regard to their dealings with Israel. For instance, the present international pressure to convince Israel to give up "land for peace", goes directly against the perpetual covenant God made with Abraham, Isaac and Jacob. God does not compromise His promises to Israel, but remains true and faithful to His covenant.
God has a plan for Israel
God has a plan for Israel.. No man, no nation, Satan himself cannot cause God to deviate from His plan.
God's promises to Israel are forever. God has allowed Israel to be severely chastened more than once over the centuries, but He has never abandoned her, and He promised He never will. She is the wife of Jehovah, His Beloved, and He is a faithful Husband. Isaiah 54, 62.
God is NOT taken by surprise. He doesn't say, "Oh My goodness! These leaders have done something stupid. I'll have to get a new plan. " No way.
God knew before the foundation of the world what would happen today - to Israel - to you - to me. "Remember the former things of old, for I am God and there is no other: I am God and there is none like Me, declaring the end from the beginning, and from ancient times things that are not yet done, saying, "My counsel shall stand, and I will do all My pleasure."
Then why pray for Israel if what will be, will be? We pray because God commands us to (Psalm 122:6) - because He gave us Isaiah, Jeremiah and Daniel for examples because in His love he designed the world so that He needs our prayer to accomplish His purposes. He certainly didn't need to.
One of the sages of the Talmud taught nearly 2000 years ago that God could have created a plant that would grow loaves of bread. Instead He created wheat for us to mill and bake into bread. Why? So that we could be His partners in completing the work of creation.
We are not moved by what we hear. We are not moved by what we see. We are not moved by what we feel. We are moved by the Word of God. What He has said He will do - HE WILL DO.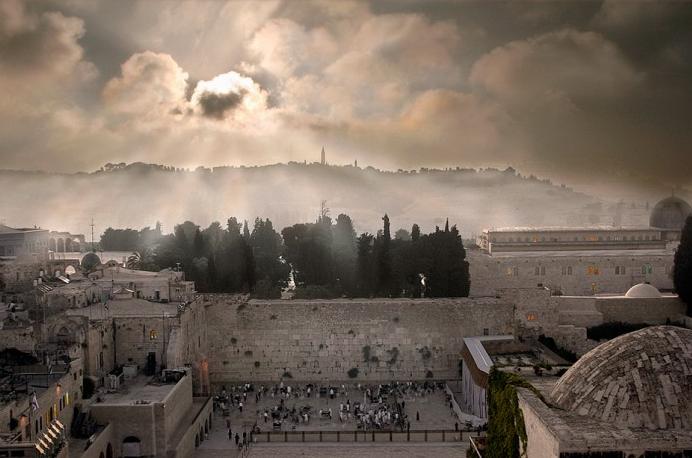 We know God's plans for Israel by His Word. We continue to intercede - to stand in the gap. We pray - day and night.
"I have set watchmen on your walls, O Jerusalem; They shall never hold their peace day or night. You who make mention of the LORD, do not keep silent, and give Him no rest till He establishes and till He makes Jerusalem a praise of the earth."(Isaiah 62:6-7)
We will be heartsick at some of the things that will happen in Israel - we will weep for her - but we must not give up. Pray with the words of James 5: 16b, 17, 18 in our hearts and trust God to keep His Word. "...The effective, fervent prayer of a righteous man avails much. Elijah was a man with a nature like ours, and he prayed earnestly that it would not rain; and it did not rain on the Land for three years and six months. And He prayed again, and the heaven gave rain, and the earth produced its fruit."
Beloved, our God is neither cruel nor capricious . He would not ask us to pray for the peace of Jerusalem if our fervent prayer would not result in the peace of Jerusalem. We pray, "NOW , Lord." He sometimes says, "Not yet, children, not yet." But in the end, in His perfect time, it will be just as He said. Hallelujah!